A government criticized for failing to convey the magnitude of the threat. A populace underestimating its personal risk. Tens of thousands dead. No, I'm not referring to the COVID-19 pandemic. I'm thinking back to the 2011 tsunami in Japan—a catastrophic event so powerful it could be "heard" from space, moved Japan's main island by eight feet, and even shortened the length of a day by about a microsecond. In the aftermath of the earthquake, I published a short post on the FutureBrand blog titled, "Brands rush to aid Japan by doing what they do best." (FutureBrand has since overhauled their site and removed old blog posts; I've included the full text of the 2011 post below.)
During the current global crisis, I'm again reflecting on what brands can and should be doing to help. Many companies are trying to do the right things, at least at a basic level—encouraging social distancing, sanitizing any stores that stay open, and trying to avoid layoffs. Some, including McDonald's and Coca-Cola, have encouraged social distancing through temporary changes to their logos or names—a superficial step that runs the risk of appearing to minimize the crisis.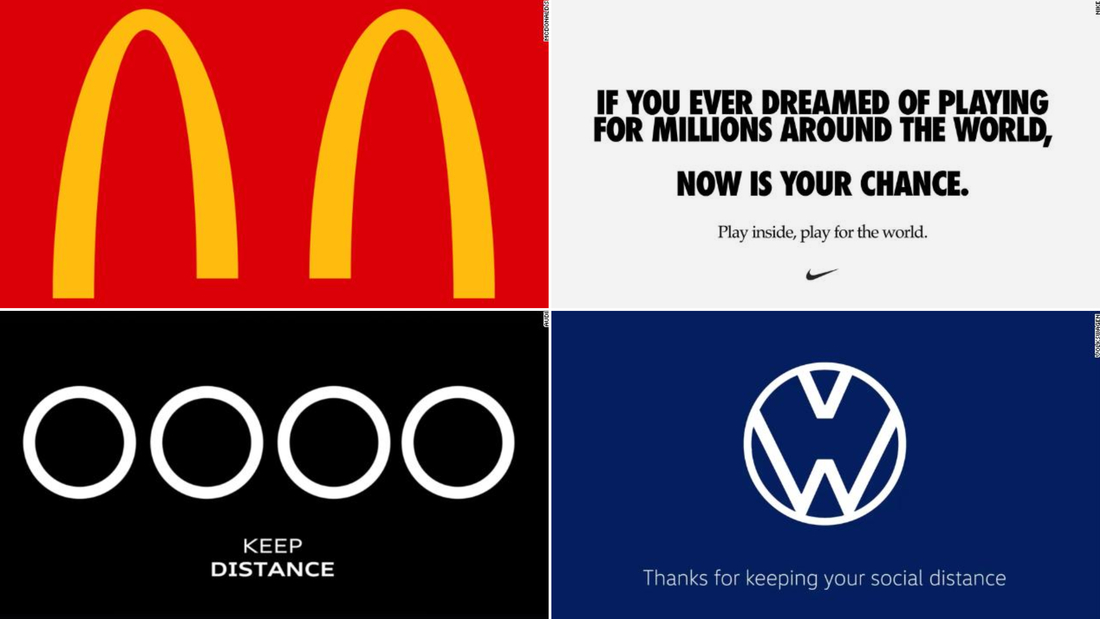 In an Instagram post last week, I identified six, more substantive ways for brands to help during the business, with one example for each.
View this post on Instagram
In the days since, I've already seen dozens of additional brands rise to the occasion, either coming up with interesting, new ways to help, or simply mirroring what other companies are doing. (And this is one scenario where brands should check their desire to differentiate at the door—if a competitor thinks of a good way to help, better to copy it than do nothing.) In this post, I'll revisit those "six ways" from Instagram, adding a few new examples for each.
DELIVER
Restaurants and companies are offering delivery or pickup, helping people stay in their homes and minimize contact with others. Some are adding delivery services for the first time; others are augmenting their delivery service, removing barriers, or offering special pricing.
Examples:
Dicky's Barbecue Pit in Dallas is offering "contactless" doorstep drop-offs in sealed packaging.
Prairie, a San Francisco restaurant, has opened a temporary, online general store, including "a roll of toilet paper and some bleach wipes" with every order. 1
Other restaurants (e.g., Aziza and The Morris in San Francisco) have added drinks and bottles of wine to their pickup (and possibly delivery) menus. 1
Seven Stills Brewery and Distillery, also in San Francisco, is now offering cocktails for delivery or pickup.
INFORM
Many news organizations are doing an incredible job of keeping the public informed. Sure, that's their job, but some of the data visualization has been really impressive (see here and here, for example), and many are making all their COVID-19-related coverage free. And while we don't need every brand reminding us to wash our hands, it's not just news organizations sharing useful information.
Examples:
The New York Times, The Atlantic, The Wall Street Journal, Bloomberg News, and others are letting users bypass their paywalls for COVID-19 content. 2
Google added a "Do the Five" graphic and link to the bottom of their search screen. They've also created "Teach from Home," a site full of resources to help teachers (and parents now serving as teachers, presumably) during the crisis.
UPLIFT
It's a pandemic, but we still need to laugh sometimes. Without making light of the situation, some brands can help by lightening the mood or temporarily distracting us from the constant barrage of bad news.
Examples:
Chipotle is hosting celebrity lunches via Zoom and giving away free burritos.
Studios like Universal are making movies available on streaming sooner than planned or releasing movies straight to streaming.
Yale University is making its most popular course, The Science of Well-Being, available online for free.
FOCUS (on those most at risk)
Some companies are focusing on especially vulnerable populations, like senior citizens, immunocompromised people, and healthcare workers on the front lines.
Examples:
Safeway, Kroger, and other grocery stores are reserving certain hours for senior citizens and other vulnerable populations to shop.
Sweetgreen is repurposing a program called "Outpost" to get free food to frontline medical professionals. 2
Butchershop, a San Francisco creative agency, created Feed the Line, which allows donors to buy food from local restaurants and have it delivered to medical workers.
PIVOT
The companies getting the most attention and praise for helping, it seems, are those announcing they've repurposed their goods, services, raw materials, supply chains, or other assets to help meet the needs of the crisis.
Examples:
LVMH started making hand sanitizer instead of fragrances, delivering it for free to French health authorities and hospitals.
Many breweries and distilleries have done the same, including Shine Distillery in Portland and Pernod Ricard (maker of Absolut Vodka).
Fashion brands from Burberry to Brooks Brothers are putting their supply chains and manufacturing capabilities to work creating masks for medical professionals.
Dyson, Tesla, 3M, GE, and many other companies are working to mitigate the ventilator shortage, either by designing new ventilator technology, manufacturing ventilators, or refurbishing old ventilators.
AID DISTANCING
Lastly, many brands have stepped up to make it easier for us to work, eat, exercise, or socialize without having to leave the house.
Examples:
Zoom is providing free conference calls for K–12 schools in many countries.
Many museums are providing online access to their digital content or providing virtual tours. 2
Google Earth is offering virtual tours of America's national parks.
Squarespace is making it easier for small businesses to sell gift cards online.
Peloton is extending its free trial for first-time customers from 30 to 90 days.
I've been inspired by some of the innovative ways these brands are pitching in during the crisis. What other examples have you seen? Is there anything brands or businesses should be doing, but aren't? Of course, many companies are struggling to survive, and most aren't easily able to manufacture hand sanitizer or masks. But my hope is that, by categorizing the approaches brands are taking, I can help other business leaders and brand managers find ways to help, if they're in a position to do so.
For more examples of brands helping out during the COVID-19 outbreak, check out these lists:
2011 post
Brands rush to aid Japan by doing what they do best
Corporate social responsibility (CSR) is integrally linked to brand strategy. A company's approach to CSR can differentiate it from competitors, lend credence to its purported brand promise, and strengthen the brand's relevance and emotional currency with customers. But making sure CSR activities are "on brand" doesn't only benefit the brand. When organizations align these initiatives with a well-defined brand, they can also give back more effectively.
In the aftermath of the tragic earthquake and tsunami in Japan last week, many brands reacted quickly with donations of money, service, and other forms of assistance. While they should all be applauded for chipping in, the manner in which they chose to help differs importantly from brand to brand—those with a deeper understanding of what they stand for were able to harness that knowledge and optimize their contributions.
Google, whose mission is "to organize the world's information and make it universally accessible and useful," immediately set up a Crisis Response site, which included a Person Finder, maps, and useful links.
Uniqlo, a Japanese clothing retailer, donated $8.6 million worth of heat-retaining clothes to help keep survivors warm. (Another $17 million was donated in cash to the Japanese Red Cross Society, $12 million coming directly from the CEO.)
Apple created a special page on the iTunes store allowing simple, click-to-donate functionality through users' iTunes accounts.
It's easy to be cynical about "faceless corporations" claiming to care. Inevitably, some people will see Apple's decision, for example, as a ploy to get more people onto the iTunes store. Other approaches, such as Bing's hastily abandoned dollar-per-retweet campaign, really do seem like shameless exploitation. But when organizations with well-defined brands put their core competencies to work for the public good—like GE engineers advising on nuclear reactors or American telecom companies offering free calls to and from Japan—it's hard to argue with the results. Doubts about motives and sincerity become secondary to an unavoidable fact—this is expert help, when it's needed most. And in an era when brands are (indeed, should be) judged by their actions more than their advertising claims, what more can we ask for?
---
Rob Meyerson is a brand consultant, professional namer, and host of the How Brands Are Built podcast. He is also principal and founder of Heirloom, an independent brand strategy and identity firm in the San Francisco Bay Area.
---
Notes:
---